Commercial Pressure Washing
Powerclean Industrial Commercial Pressure Washing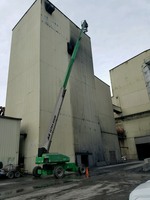 Commercial pressure washing from the expert technicians at Powerclean Industrial Services is perfect for removing mold, mildew, grease and dirt from buildings, machinery, roofs and floors. It is also ideal for preparing a surface for painting. Exterior applications include gas stations, restaurants, bathrooms, high-rise buildings, drive-thru's, sidewalks, driveways, awnings, parking lots, and bus stops are typical uses.
Commercial pressure washing works by directing a high-pressure stream of water at the area to be cleaned. By adjusting the shape and size of the stream, along with the angle of application, a wide variety of tasks can be accomplished. Whether you need to clean the inside of your facility or remove graffiti from your building Powerclean Industrial is your best choice.
When required, more than just water is used to complete your project. Our commercial pressure washing equipment has hot water and chemical capabilities. Biodegradable detergents are often the chemical of choice to protect the environment. Commercial pressure washing is an excellent choice when the water used in the process has to be reclaimed to comply with EPA standards. The certified technicians at Powerclean Industrial Services are trained to comply with all environmental standards for reclaiming water.
Depending on the location of the project, we may use electric motor powered equipment to reduce noise and eliminate the exhaust fumes of gas powered equipment. You can trust Powerclean Industrial to provide the best service while keeping distractions to a minimum.
For the highest quality commercial pressure washing and all industrial cleaning contractor and environmental services call Powerclean Industrial Services. Powerclean meets all OSHA and environmental regulations for commercial pressure washing and all its industrial cleaning contractor services. Our mission is excellence in training, safety, response time and the environment, bringing an exceptional value to every customer.